The opportunities offered by rotational molding in the medical industry
17 February 2021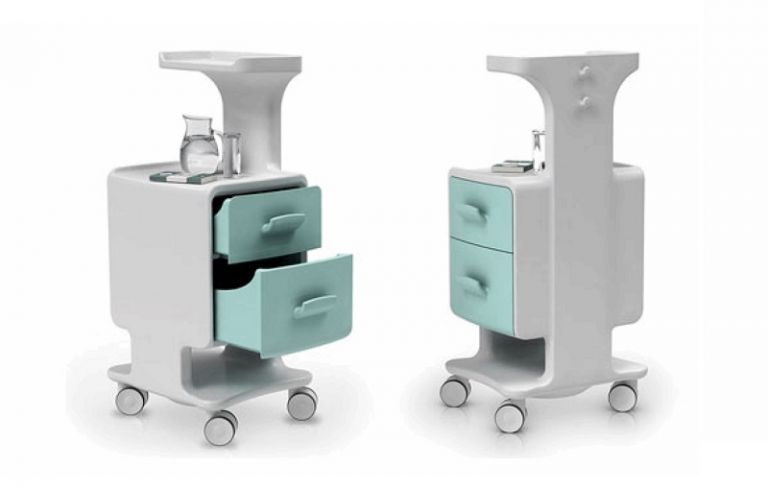 Rotational moulding, thanks to the greater versatility and flexibility of use compared to other manufacturing technologies of plastic products, is one of the most popular systems in the medical products industry.
Rotational molding is a modern and technologically advanced system suitable for the production of manufactured products in many industrial and civil sectors. It is a technology that has constantly evolved since its introduction, constantly improving both its production processes and the performance of finished products. 
Today, through rotational molding are made objects of all kinds, suitable for multiple solutions. This is possible thanks to the numerous opportunities offered by this system: create objects of different shapes and sizes, integrate numerous inserts, customize color and surface finish.
In fact rotational molding, compared to other technologies for the production of plastic products, allows greater versatility and flexibility of use. This is why it is one of the most popular systems in the medical products industry. 
Cutting-edge technological solutions
One of the basic requirements of medical items is the integration of mechanical and electronic parts within a functional and aesthetically pleasing structure. 
Rotational molding fully satisfies these characteristics, as it allows to produce complex shapes that can be integrated with other products of different materials.
In this way, rotational-printed products can easily meet the design and ergonomics requirements of the functional standards of the industry regulations.
In addition, rotational moulding is also the most suitable solution in terms of hygiene. In fact, its technology ensures the realization of hollow bodies formed by a single seamless component, and therefore very easy to clean.
This aspect is particularly important in the manufacture of medical containers, food trays and other tools that can be integrated with metal supporting structures, wheels, handles and other accessories for practical and hygienic use.
The balance between functionality and safety
In addition to the maximum sanitation of the surfaces, every item intended for medical use in contact with the patients, must be characterized by a high level of safety.
In this respect too, rotational-printed products are the ideal solution because they can be produced in such a way as to minimise the risks associated with accidents such as accidental shocks, both for patients and healthcare professionals.
In fact, thanks to the ease with which it is possible to create non-slip surfaces and rounded shapes, they offer the correct balance between functionality and safety.
Constant research and development to improve performance
Rotational printed items offer the best performance to meet the most demanding challenges on the market and meet the needs of end-users. 
Even if the final quality of a rotational-moulded product depends on various factors, the fundamental elements to realize items with these characteristics are the moulds and the raw materials, that is the polymers. 
Today, thanks to modern CAD design and manufacturing technologies through CNC machines, it is possible to create complex and articulated moulds with maximum precision and reliability.
In addition, to meet every specific need, the research and development laboratories of the most important producers of raw materials are committed to offering the widest choice of polymers suitable for each field of application.
The strengths of this ever-increasing offer are the wide range of technical features such as chemical resistance and mechanical stress, but also aesthetic as color and surface finishes.
(cover photo: medical bedside in recyclable polyethylene - Persico S.P.A.)

WE PRODUCE HIGH QUALITY POLYETHYLENE PRODUCTS FOR
CIVIL AND INDUSTRIAL USE