The advantages of a stackable road barrier
09 November 2020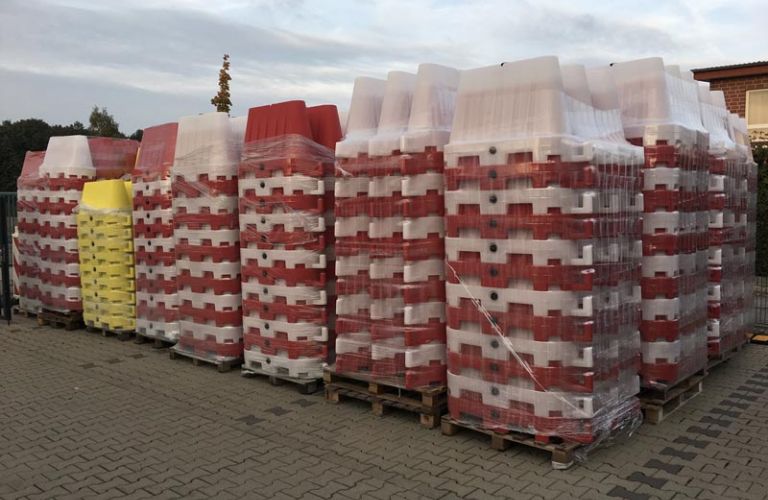 All construction sites that require traffic restriction or viability changes, need effective, practical and durable road barriers. Tekcnoplast's proposal includes models of road barriers, which are not only functional, versatile and resistant, but also practical and comfortable to use because they are stackable.
In fact, a model that is also stackable is the best choice, especially in those situations that require adding barriers on the construction site, because of changes to the initial project or an unforeseen extension.
Having barriers of this kind, designed and built to facilitate as much as possible the operations in the site where they are inserted, means being able to use them easily in streets and squares, in parking or construction sites and in all circumstances where it is important to delimit different areas.
Read also: The Tekcnoplast Road Barrier as a Distancing Measure in Kindergartens
The advantages of a stackable road barrier
A road barrier is defined as stackable when it is built in such a way that it can be superimposed on another barrier of the same model, reducing the overall dimensions. 
The reason for their use is to occupy as little space as possible with a number of barriers, so that they can be stored in a warehouse or in a special area of the construction site or road when they are not used. 
Stackable barriers are the most suitable choice for seasonal uses, so you can store them without having too much space during the rest period . This characteristic is important also in the long-term working sites, in particular for the so-called spare barriers, than usually are held in a dedicated area, in order to use them only in case of necessity.
However, if all the barriers used during the work are stackable, maintenance operations, removal of rubble, and possible reorganization of the spaces become simpler and more practical.
[click on the image to watch the video]

Stackable and versatile
A barrier designed for continuous and daily use, in addition to being resistant, must be first of all easy to manage. 
For example, in the case of construction sites in areas with high road mobility, you need maximum practicality in storage and handling, otherwise management can become too time-consuming and demanding a lot means and personnel. 
In addition, stackable barriers must also have the characteristic of versatility. In the design of Tekcnoplast barriers a wide range of uses is considered. For this reason they are equipped with a quick coupling system, loading and unloading caps, and they can integrate poles for road signs, reflectors and other customizations.
The material: high-quality polyethylene
In addition to the characteristic of stackability, it is important that the material used is also suitable for use. Tekcnoplast barriers are made of polyethylene, a durable, weatherproof material that is easy to clean and maintain. 
In addition, Tekcnoplast's polyethylene stackable barriers are available in various colours, all approved for road use and/or in public construction sites.
[cover photo: Tekcnoplast - Road Barrier]

WE PRODUCE HIGH QUALITY POLYETHYLENE PRODUCTS FOR
CIVIL AND INDUSTRIAL USE