The use of plastic elements as an aid to road mobility
03 June 2021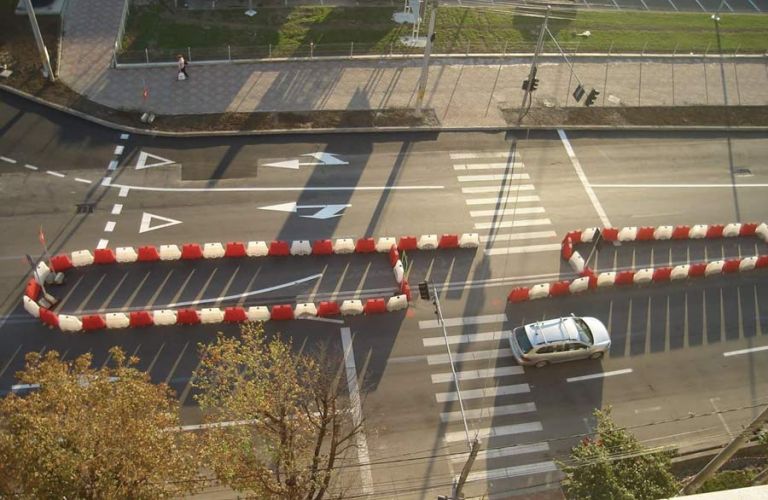 At present, the demands in the field of urban and extra-urban mobility are increasingly complex. This requires the application of up to date technologies, starting with the use of road signs made of more versatile, durable and performing materials.
For example, traditional road signs are increasingly made of fibres with filiform structure or reinforced filaments, instead of metal.
On the other hand, different types of plastic materials such as polyethylene are used for durable installations or road construction sites. 
In fact, thanks to their lightness and maneuverability they are particularly suitable in all construction operations. 
In addition, polyethylene devices do not pollute, do not contain paints or solvents, are easily recyclable and, at the end of their use cycle, are considered  "non-hazardous special waste". 
Cones and flexible delineators
The cones are used to delimit and highlight obstacles and temporary variations in traffic, or work areas for a maximum of two days.
They must have a stable base and be easily removable.
When the intervention duration is longer, flexible delineators should be used. 
They must be fixed to the road surface, and bend over and resume the original vertical position in case of investment. 
The law states that they must be red with retro-reflective white rings, and made of flexible materials such as rubber or plastic. 
Road barriers (New Jerseys)
The range of use of polyethylene New Jerseys is very wide.
In fact they are used to channel the traffic of the vehicles on roads, squares, parkings, circumscribe areas affected by an accident, delimit roadworks and construction sites.
Polyethylene New Jerseys are of variable height and have an empty structure. 
Depending on their weight and stability requirements, they are filled with water or sand and have considerable advantages over their concrete or metal analogues.
For example, they do not damage the flooring and therefore can also be placed on precious paving of villas and squares of historical interest. 
Some models have a longitudinal groove to be placed at the back of a kerb as a traffic divider and have a system to hook several elements consecutively. 
In addition, many polyethylene New Jerseys are stackable and can accommodate traffic signs, reflective gems, flashing lights and other high visibility devices
Read also: Worksite Fencing: the Advantages of New Jersey Plastic Barriers
The direction indicators
The direction indicators are used to mark junctions and exits for roads and motorways, or to signal lane deviations or major obstacles to traffic. 
Like New Jerseys, they have a hollow structure to be ballasted from the inside with water or other weighting systems such as sandbags. 
To ensure maximum visibility in all circumstances, they are yellow or green, with directional arrows in reflective film.
Polyethylene direction indicators are resistant to weather and direct sun exposure, and only require periodic dust removal from refracting arrows.
The parking bollard
Parking bollards are complementary road signs that prevent the parking of cars and motor vehicles.
They are used near ramps for disabled people, in front of driveways, to delimit areas for public transport, of historical interest, etc.
The law requires that they are made of self-extinguishing and immediately recognizable material so as not to constitute an obstacle or danger to pedestrian traffic.
For this reason, the polyethylene bollards are among the most common devices: light and resistant to shocks, they are very visible and integrate perfectly the traditional road signs.
Read also: The polyethylene parking bollard: safety and practicality within everyone's reach
[Cover Photo - Tekcnoplast Road Barrier]

WE PRODUCE HIGH QUALITY POLYETHYLENE ITEMS FOR
CIVIL AND INDUSTRIAL USE