How to turn a van into a camper
17 June 2021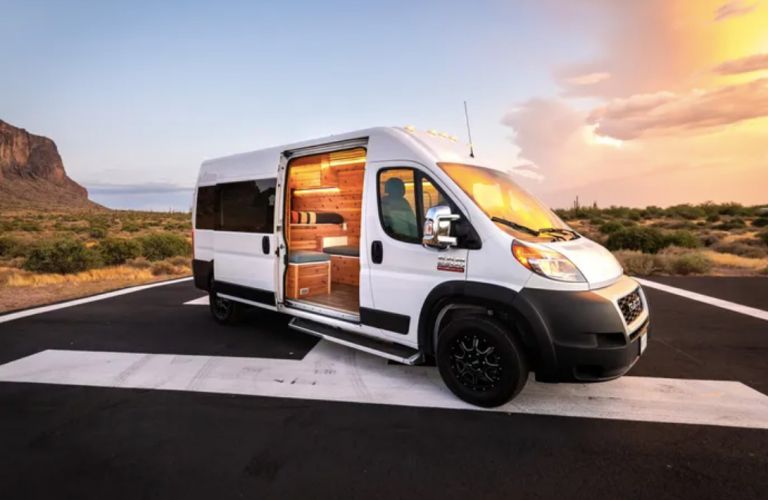 Turning a van into a camper is the dream of many fans of travel and adventure holidays. To achieve a result that lives up to expectations, it is important to follow some simple but important steps.
Choose the van that best suits your needs
If you are thinking of camperizing a van, even if you already have one, you need to be sure that it is the most suitable model for your needs. 
For example, ultra-compact vans, vehicles slightly larger than the size of a car, are suitable for travelling alone or at most in two people.
Therefore they are recommended to those who do not have too many demands in terms of comfort and habitability, or want to use the van for other purposes.
Common commercial vans have enough space to provide the main amenities, and are quite easy to drive, even in traffic. 
For this reason they are the most versatile and suitable for camping
Finally, the maxi-volume vans allow a complete set-up of furniture and accessories for more people and allow you to comfortably stand inside them.
On the other hand, they are impractical in residential areas and cannot be parked in a standard garage.
Equipping floor, ceiling and walls (thermal-acoustic insulation)
When you want to turn a van into a camper, floor, ceiling and wall cladding is one of the most important aspects, also for thermal and acoustic insulation.
The most used materials are parquet, PVC or carpet applied on a plywood cover shaped on the interiors of the van. 
To thermally and acoustically insulate the interior of the motorhome, below the plywood envelope, you must use glass wool, expanded polyurethane, or extruded polystyrene.
Electrical installation and lighting
Especially in smaller vans, it is not necessary to adapt or substantially modify the electrical system.
However, some tricks such as the presence of plugs or an external light point can be very useful.
Instead, in larger motorhomes, you need to design a real power system for lighting and the various appliances that will fit inside.
The most used system consists of an inverter connected to one or more 12 or 24 V batteries
An alternative to batteries are solar panels to be installed on the roof of the van.
Plumbing (bathroom and kitchen)
Also the characteristics of the water system vary depending on the size of the camper.
For example, in ultra-compact vans, the space available allows you to install only two cans for clear and gray water, a small sink with a tap and an electric pump.
Instead, in the most spacious vehicles it is possible to realize a real water system for WC, shower, boiler, sink in the kitchen. 
In this case, a more complex and efficient supply and discharge piping system will be required.
Read also: How to Have Clean Water Always Available in a Caravan
Furniture, accessories and finishing
Customizing the interior of a camper van is a fun and rewarding activity because it means signing your own home on wheels.
In addition to any kind of decoration such as sunshades, paintings, plants, you can install tools that make the trip more comfortable.
For example, a state-of-the-art TV or even a heating system connected directly to the fuel tank.
Safety and approval
In Italy, the conversion of a van into a camper van requires a fairly complex administrative approval procedure.
In fact, among the various obligations, it is necessary to issue a permit from the manufacturer of the vehicle, the drafting of a design of the equipment signed by an authorized engineer and the re-registration of the vehicle as a camper at the Provincial Motor Vehicle.
This is why many people choose to install a removable camping kit that does not require the modification of the registration certificate, or have their camping van approved abroad, in a country where bureaucracy is more streamlined.

WE PRODUCE HIGH QUALITY POLYETHYLENE PRODUCTS FOR CIVIL AND INDUSTRIAL USE