Rotational moulding for large, low-weight, seamless surfaces
15 July 2021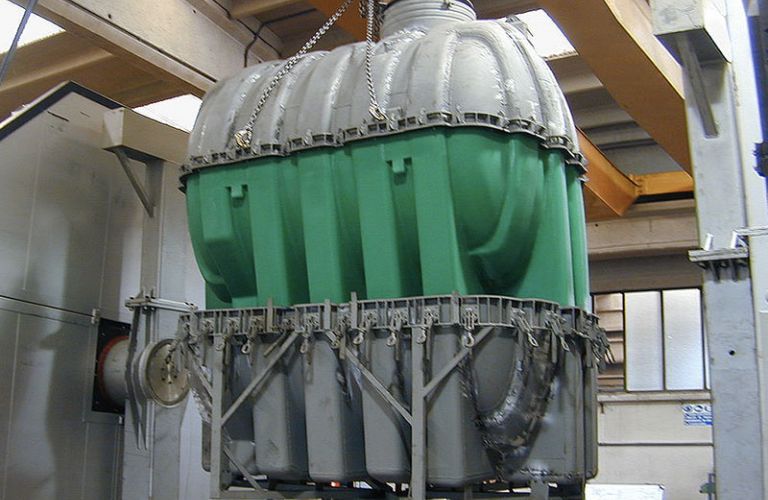 Rotational moulding is one of the most widely used technologies for the industrial production of hollow-structure plastic objects. In particular, it is suitable especially when, due to design choices or use needs, it is necessary to create large, low weight and resistant surfaces.
For this reason, one of the most successful applications of rotational molding is the production of medium and large size tanks. 
However, the fields of use of this technology are varied. They range from the medical sector to tools for agriculture and construction, from components for vehicles and boats to design articles with a strong aesthetic impact.
Read also: Why a Thermoplastic Material Is The Best Choice When The Appearance of a Product Is Important.
The industrial process at the base of rotational molding exploits atmospheric pressure, that is, there are no external forces that act on fused polymers during forming.
This feature distinguishes rotational molding from most other thermoforming methods of plastic products, and has several advantages. 
For example, it is possible to make objects that get their final shape with surfaces that are essentially free from internal tensions, and therefore less prone to breakage and failure.
Moreover, rotational molding ensures that articles printed in regular shapes, such as cylindrical containers or tanks, have the best wall thickness uniformity.
Read also: Advantages of a Polyethylene Water Storage Tank
At the same time, compared to other stamping or blowing processes, with rotational molding it is much easier to realize even bodies with complex shapes, with walls of varying thickness even within the same part.
Among these, we find design items such as furniture complements and many components in the automotive industry. 
In addition, unlike most other thermoforming methods, this plastic object production system does not generate welding lines.
This feature allows to produce absolutely smooth surfaces, both internally and externally.
The main advantage of the absence of ribs is the ability to perform routine maintenance, cleaning and, when required, sanitization of the article, faster and more effectively.
Rotational molding also allows you to perform with relative simplicity some industrial processes aimed at the production of complex parts such as double-wall tanks, often impossible to achieve with any other method.
Therefore, the rotational ensures maximum control of the printed surfaces in terms of:
wideness

low weight

non-conjunction

constant or variable thickness.
This has several advantages also for the production cycle.
For example, post-molding processes are much easier and include almost exclusively the trimming of a slight burr that is formed at the junction of the mould, and is easily removable.
Moreover, it is not necessary to modify or replace the mould, even for the pieces with a variable distribution of the thickness of the walls.
In this way, even the most complex articles have reasonably contained production times. 
In addition, almost all the raw material is used in the manufacture of the finished product, minimizing material waste and rubbish production.
[cover photo- author: Stéphan Courtois - CC BY-SA 3.0, ibit.ly/moDm]

WE PRODUCE HIGH QUALITY POLYETHYLENE PRODUCTS FOR
CIVIL AND INDUSTRIAL USE