The advantages of rotational moulding in the production of playgrounds and attractions for children
05 August 2021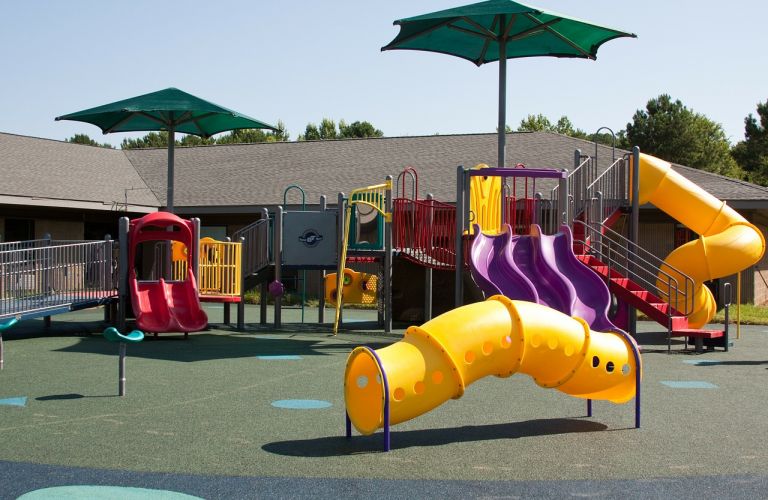 Currently, there are several industrial processes that allow the large-scale production and marketing of articles for playgrounds and attractions for children. Among all, the rotational moulding of thermoplastic materials is one of the most advantageous in various respects.
In particular, the use of polyethylene allows us to satisfy with ease and at low cost the various needs of this sector.
In fact, the playground and entertainment sector in general, is subject to compliance with increasingly stringent requirements in terms of safety of materials, non-toxicity and ease of sanitization.
In addition, its growing competitiveness requires a frequent update of design and color choices, also in relation to the trends of this constantly evolving market.
For these reasons, the rotational moulding of thermoplastic materials such as polyethylene proves to be one of the most suitable systems for the realization of slides, swings, plastic houses and climbing structures.
Smooth and safe surfaces
The rotomoulded polyethylene surfaces are absolutely free of joints and ribs, and for this reason they are less prone to failure and damages, even in case of trampling or prolonged stress.
In addition, their resistance to mechanical stress and accidental breakage is guaranteed by the passing of rather strict tests on the materials used.
Therefore, high quality raw materials are used to make these items ensure the most satisfactory and long-lasting operating experience possible. 
For these reasons, regardless of the size or type of attraction (swing, slide, etc.), polyethylene products made with rotational, have construction features of safety particularly suitable for use by children.
Non-toxic material, clean and easily sanitisable.
Polyethylene is one of the most suitable plastic materials for the production of items for children, also for its chemical composition.
In fact, it is non-toxic and absolutely free of substances or industrial dyes harmful to prolonged contact with the skin or mouth. 
In addition, being smooth and free of gaps, its surfaces are not contaminated by mold and are easily washable and sanitizable.
Modern and attractive appearance.
The rotational moulding of thermoplastic polymers such as polyethylene has the additional advantage of great versatility in the realization of even rather complex shapes.
In fact, thanks to suitably designed moulds, with this system it is relatively simple to create large objects, or with irregular and fanciful geometries.
In addition, in order to give the polyethylene objects the desired colour, instead of painting the product in the last phase of the process, pigment is added to the raw material during production.
This avoids scratches and chipping of the surface colour, as is often the case with products painted with traditional systems.
Ecological and recyclable material
Finally, rotational moulding of polyethylene products represents a modern, efficient and low environmental impact technology, able to meet the needs of an increasingly sustainable market.
In fact, polyethylene articles do not require particularly bulky packaging, they allow a durable use over time and, at the end of their life cycle, can be easily recycled many times.

WE PRODUCE HIGH QUALITY POLYETHYLENE PRODUCTS FOR
CIVIL AND INDUSTRIAL USE