Rotational molding for large-scale production of design items
26 August 2021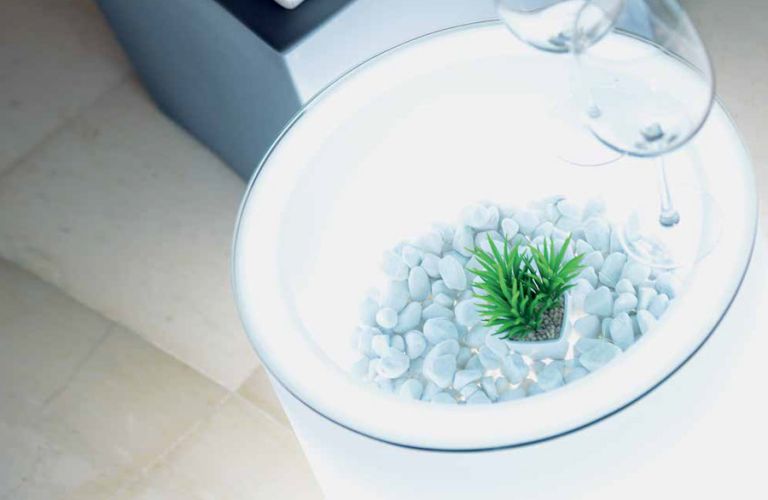 Rotational moulding is one of the most widely used technologies for the industrial production of design items and furnishing accessories. The ever-increasing success of this large-scale manufacturing system depends on a number of factors relating to both the aesthetics and technical characteristics of the finished product, and some peculiarities of the industrial process.
Versatility of shapes and sizes
One of the main advantages of rotational molding is the possibility to produce in a fairly easy way, even rather complex geometric shapes.
Other moulding systems, to achieve the same results, would require much more complicated and expensive procedures in terms of time and personnel employed. 
In addition, the rotational allows you to create design items of any size, such as small decorative items, or furnishing accessories of great aesthetic impact.
Variety of surface finishes
Rotational molding of thermoplastic materials such as polyethylene allows a wide variety of solutions to customize the surface appearance of the product.
For example, thanks to the pigmentation process during the processing of the raw material, it is possible to give the article an intense and durable color.
Or, thanks to a quick surface treatment, you can easily apply extraordinary finishes with high gloss for a galvanized, nickel-plated, chrome-plated effect and others.
In addition to the treatment of smooth surfaces, rotational molding is easily suitable for the realization of textures in relief of the traditional type such as grooving, knurling and others, or designed from scratch by the designer.
Light and resistant articles 
With the same size, round-molded polyethylene design objects have a substantial advantage over their metal counterparts or other non-plastic materials: they are much lighter.
In fact, polyethylene has a specific gravity of about 0.94 g/cm3, which corresponds to about one-third of aluminium (2.7 g/cm3) and one-eighth of stainless steel (about 8 g/cm3)
This means that they can be easily transported, placed or stored elsewhere when not in use.
Low production and maintenance costs
The use of rotational moulding for the production of design items is economically advantageous throughout the whole life cycle of the product.
This is because the industrial process to obtain the finished product requires fewer phases (for example, it doesn't need painting and other surface processing) than traditional materials such as metal, wood or stone.
In addition, the low weight of the raw material makes storage, transport and logistics operations much less demanding, even for large objects.
Finally, the maintenance of rotomolded polyethylene design items is particularly easy, as the surfaces are resistant to UV rays, atmospheric agents, shocks and scratches.
Attention to the environment
Another aspect that greatly influences the choice of rotational molding of polyethylene for large-scale production of design creations, is its green nature.
In fact, today, an increasing number of designers devotes increasing attention to ecological issues and the impact of industry on ecosystems.
From this point of view, recyclable plastics such as polyethylene are often the first choice because they are characterized by production, use and regeneration cycles with a high environmental sustainability.
Photo cover: Monacis - Bright Collection - Relax Bright

WE PRODUCE HIGH QUALITY POLYETHYLENE PRODUCTS FOR
CIVIL AND INDUSTRIAL USE