The advantages of thermoplastics over fiberglass
26 November 2021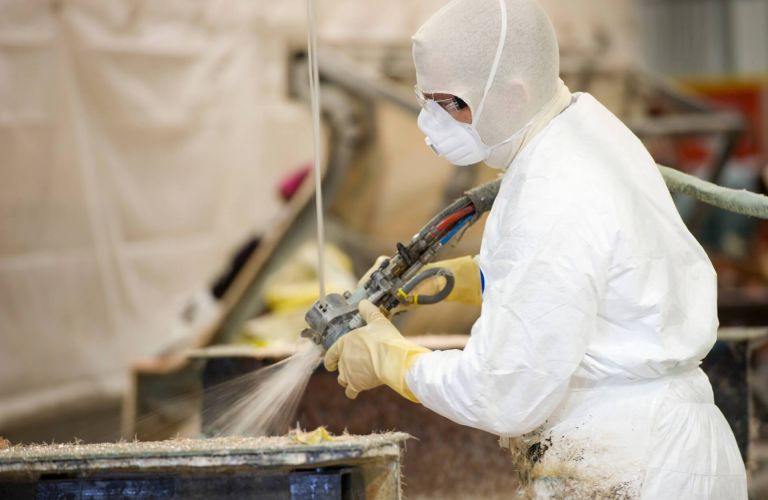 Plastic thermoforming and fiberglass molding are two of the most widely used systems to make parts and items for road mobility, rail, construction, medical and other industries. Even if each of the two processes can be considered effective to manufacture high quality products, the thermoforming of polyethylene and other thermoplastics have some very distinct advantages over fiberglass.
Fiberglass moulding process
One of the most common techniques to manufacture fiberglass components is chopped fiberglass molding. 
It is led within an open mold, in which the finish coat is applied as the first layer; then, fiberglass and other resins like polyester, vinyl ester, epoxy or others, are applied onto the top layer to reach the required thickness. 
If requested, prefabricated fiberglass or carbon fiber reinforcements can also be used to improve the overall mechanical strength of the finished piece.
When the item has reached the expected thickness, it must be freed from trapped air, left to cure and then removed from the mold. 
Depending on the automation level of the facility, this process can involve a certain number manual operations, demanding a longer time per part.
So, even if the fiberglass moulding process is a very effective way to produce various parts and items, it has some disadvantages:
it is a labor and time intensive process;

keeping the wall to the desired thickness requires extra control operations,

meeting daily production needs may demand multiple molds;

some of its phases are considered hazardous as they produce fumes and dust and use highly flammable materials;

it is subjected to strict and stringent environmental control regulations.
Polyethylene rotational moulding 
Rotational moulding belongs to an industrial process known as plastic thermoforming and it uses a wide range of plastic polymers like PVC, polypropylene and polyethylene.
In this process, a closed mould filled with the proper amount of selected polymer powder or grains rotates slowly and ceaselessly around two axes..
Due to the high temperature, the polymer melts and adheres to the internal walls of the mould, producing evenly thick, seamless and hollow bodied one-piece items.
Properly designed moulds can be used to produce large, complex or customly finished objects like synthetic leather, embossing, and others. Co-moulded inserts can also be easily added.
Most of this process is completely automated, as the only phases that in most cases are still held manually are the loading and unloading of the mould or a finished item from the rotational station.
That's why rotational moulding of plastic polymers like polyethylene, is one of the most cost-effective way to produce high quality items for civil and industrial use:
every stage of the process is largely automated;

it produces parts with tight tolerances and consistent dimensions parts;

it is capable of realising items with complex shape, geometry and finish;

most of regulations worldwide consider it environmentally safe.
Some considerations about weight
All thermoforming plastics are well known to be significantly lighter than glass-fiber based materials.
The following table shows the comparison between the specific gravities of the most common thermoplastics and fiberglass.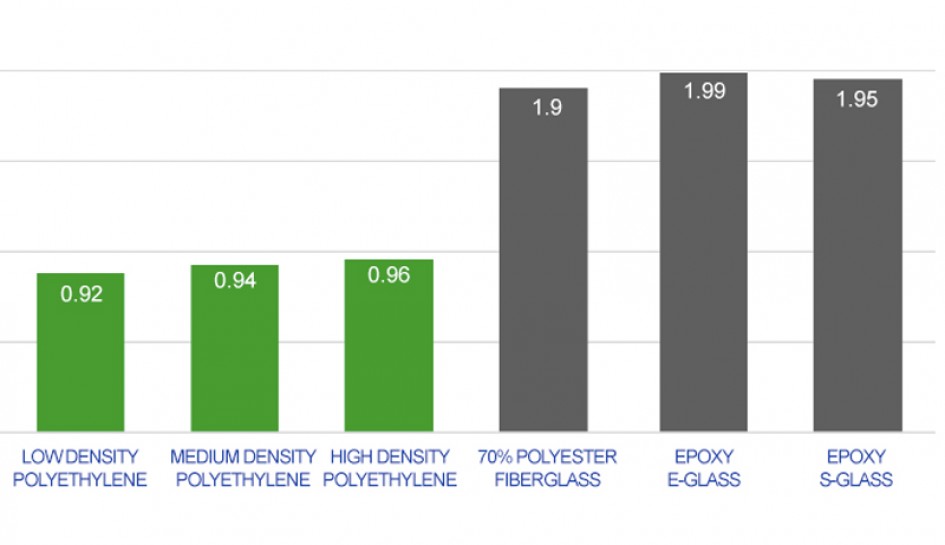 This is a real advantage as weight is a factor heavily affecting production and transportation costs in every kind of industry.
In fact, lighter raw materials and finished products offer conspicuous savings in fuel, and may cause less wear and failures to vehicle components such as brakes and propulsion systems.
Moreover, their handling demands less manpower and energy consumption.
And, last but not least, a reduced consumption of fuel and energy decreases the environmental impact of the whole production cycle.
For these reasons, choosing plastic instead of fiberglass thermoforming as the manufacturing process for a suitable project, can ensure some major benefits, advantages and cost savings for your project.