The Advantages of Thermoplastic Polymers Over Metal
23 December 2021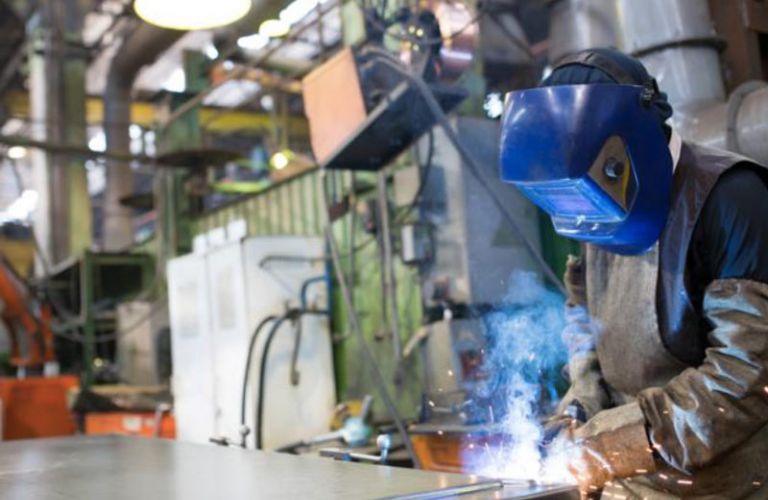 When it comes to choosing components, accessories and other items for construction, road and many other sectors, the comparison between metal and plastics is always one of the most debated topics. If until a few years ago metal was the most reliable choice, at present innovations in plastic processing have made it possible to fill most of its physical and structural gaps.
Especially thermoplastic polymers, offer several advantages in many civil and industrial applications: for this reason they have become the preferred choice by an increasing number of companies.
Production Times and Costs and Finished Product Accuracy
The most commonly used metals are zinc, aluminum, nickel, steel.
Whether it is a drinking water tank, a building accessory, or any other item, to meet the design specifications, you need to use different machinery.
First of all, it is necessary to cut, bend, drill and apply other modifications to the sheet of which it is composed; subsequently, the various parts must be assembled by welding, riveting, stapling or other fastening systems; finally, further finishing operations such as sandblasting, painting, polishing, and others may be required.
The high number of processes required to produce the finished product necessarily leads to long production times and rather high costs.
Instead, currently the processing of the most used thermoplastic polymers such as PVC, polypropylene and polyethylene, takes place through industrial thermoforming or molding processes: they are much simpler and, in most cases, fully automated.
In fact, thanks to the high temperature that melts the polymer in a mould, it is possible to give the desired shape to the raw material in a single step.
The various thermoforming systems allow you to obtain objects of any size, shape, and surface finish, even customized. 
For this reason, the time and costs for the realization of a plastic article are lower than its analogous in metal.
Furthermore, as this is a single step, the discrepancy margin of the finished product with respect to the initial design is also minimised.
Cleaning and Maintenance Operations 
Metal objects, although made of stainless alloys, often require rather expensive and time-consuming cleaning and maintenance. 
In addition, due to the sensitivity to many chemicals, many metal items gradually lose their functionality.
However, plastic products, even if exposed to aggressive contaminants, retain their physical and structural characteristics for longer.
In particular, certain materials such as polyethylene are exceptionally resistant to contamination of fungi and bacteria.
This is a major advantage especially in the food and beverage industry, where hygiene is uncompromising and maintenance can take a long time.
These properties of plastic articles mean that they can be used longer than metal ones, significantly reducing the time and expenses for routine maintenance or replacement of parts that can no longer be used.
Lightness, Manoeuvrability, Production and Transport costs
Moulding or thermoforming plastics are lighter than most metals used for the production of similar items.
The following table shows the comparison between the specific weights of the most common polyethylene shapes with some metals.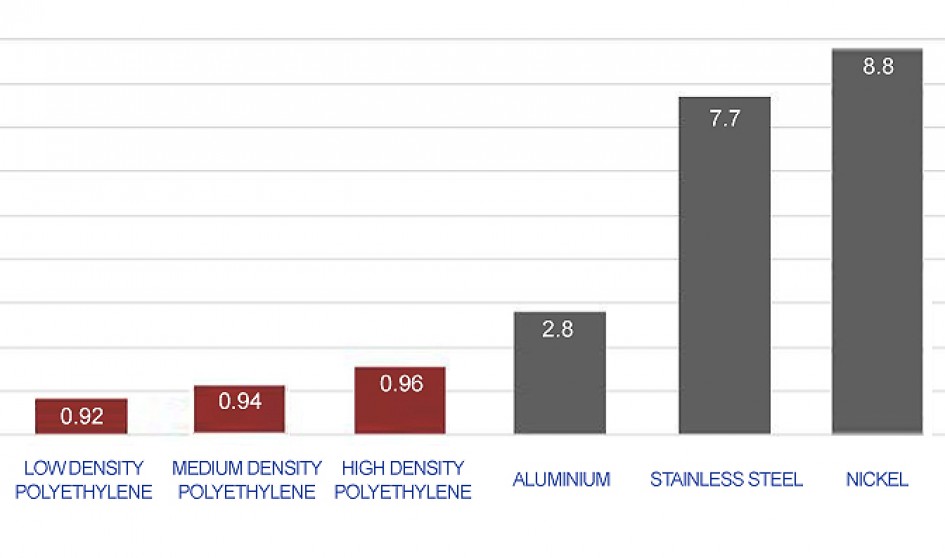 The lower specific weight is an advantage in a number of respects, especially as regards production and transport costs in all types of industrial applications.
In addition, the handling of plastic items, in stock or on site, involves the use of a reduced workforce, and reduces fuel consumption. 
source: https://www.productiveplastics.com

WE PRODUCE HIGH QUALITY POLYETHYLENE ITEMS FOR
CIVIL AND INDUSTRIAL USE